Driving east on NC Highway 561, I almost missed it. Hidden down a dirt road behind about a quarter mile of cedars was what looked like a large, old home. I parked the Xterra on the side of the road and got out to investigate just as a light drizzle began dripping from a swiftly blackening sky. This had better be worth it.
The home was hard to see between the trees, with the long driveway increasingly overgrown by grass, weeds, and tree saplings the closer I got. As the drizzle turned to light rain I picked up my pace to more quickly cover the open ground between me and a thicker stand of cedars closer to the house. Taking shelter in a surprisingly dry spot between two tall, particularly closely set trees, I studied the dilapidated mansion before me.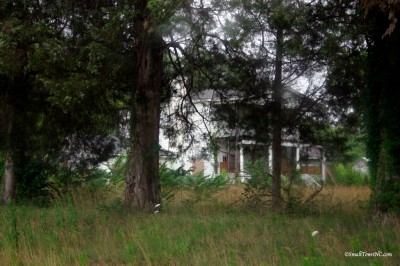 Plywood covered what remained of the windows, and the front porch was supported by rough wooden beams. Not a particularly large home, it appeared to be built over a partially excavated brick basement.
In its two hundred plus years, what has it seen? It's not a grand mansion, so debutante balls aren't likely to have been hosted here. Was it, rather, a more ordinary working farm home? Do the upper bedrooms echo with the cries of mothers giving birth, as so often was the case before modern hospitals? Were there boisterous Thanksgiving and Christmas dinners in the large room in the west wing? (Yes, I peeked.) Quiet evenings before one of the twin fireplaces, reading books or smoking a locally sourced cigar?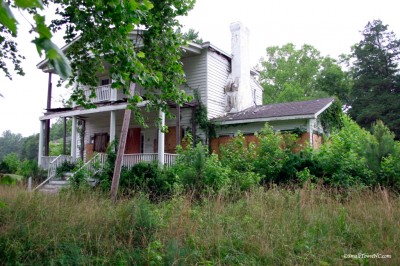 The more legendarily historic Willie Jones Farm lies adjacent to this property's original boundaries. It's known for having reputedly hosted, for a number of years, a young man who later became a great naval figure and whose birth name was John Paul—he took the Jones' name in honor of their extended and rather generous hospitality. Historians aren't so sure.
American mythology aside, in the early 1800s, the home was owned by Bartholomew F. Moore, a prominent lawyer who was an attorney general of North Carolina, and was later widely known to oppose secession. When he was named attorney general in 1848, he sold the property to John R. Gary, who was notable mostly because his wife, Rebecca (nee Ousby), was registrar of the NC chapter of the Daughters of the American Revolution.
The most recent occupants of the home were the Twisdale family, for whom it is now named. James R. Twisdale bought it in 1914. Shortly before his death in 1996, he had the house renovated. His wife and only child having preceded him into eternity, the property went to the county and fell into its current state of disrepair.
According to a source in Halifax County, this home—with its centuries of American history—is currently owned by Raleigh entrepreneur and NC history maven Greg Hatem. He's done remarkable work on other historic buildings throughout the state. There may be a future for the Twisdale House, yet. One can hope.
And yes, the drenching—and ticks I brought home from the underbrush—were worth it!